Questioning can be a difficult concept master because it requires the reader to reflect on what is known and identify what is "unknown". When reading informational text, the writer may be explicit about what is known and what readers should know. However some writers want readers to dig in and look for hidden messages. The same is also true to art as many artist work to make the unknown present for the viewer.

As we progress in our introduction to Informational Reading and Nonfiction text, we will continue to use art as a tool to aid our powers of observation, reflection strategies, formulating questions, and seeking deep meanings within a work.

Powered by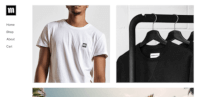 Create your own unique website with customizable templates.